The State Commission Assessment Panel (SCAP) is an assessment panel whose six Members are appointed by the State Planning Commission.
The SCAP Members are selected from various fields of expertise. Members have qualifications and experience in urban and regional planning, building, environmental management, or related disciplines appropriate to their duties, and the matters assessed by the SCAP. SCAP members were appointed by the State Planning Commission for the term 1 December 2018 to and including 31 May 2020.
Code of Conduct
SCAP members are bound by the Minister's Code of Conduct. Read about the Code and how it is applied.
Members

From 1 December 2018 – 31 May 2020, the six Members are:
Simone Fogarty
Presiding Member
1 December 2018 – 31 May 2020
Simone is an urban and environmental planner with a wide range of experience in both the public and private sectors that spans 29 years of practice. She is a Fellow Member of her profession and has extensive experience in strategic planning, policy development and project assessment. She has qualifications in urban and regional planning as well as environmental science and marketing. She has undertaken a wide range of projects dealing with complex economic, social, environmental and development issues. As such she has a wide appreciation of the factors that influence our built and natural environment and the infrastructure and services needed to support it.
She was instrumental in addressing a wide range of urban and regional policy issues in her role as Director, Policy in the then planning department. In 2014 she was selected by the Planning Minister to work with a five person panel charged with the responsibility of undertaking a review of the SA Planning System. The recommendations of which are currently being implemented.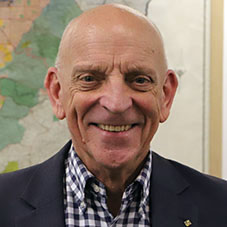 Dennis Mutton
Deputy Presiding Member
1 December 2018 – 31 May 2020
Dennis is an independent consultant and Board director with expertise in natural resource management, primary industries, regional development and government, business, and community relationships. His career has included executive management roles in both the private and public sector including 15 years as CEO of a range of Government Agencies in South Australia. He remains active in building leadership and strategic capability within business and the community.
Chris Branford
Member
1 December 2018 – 31 May 2020
Chris is a Planner and Urban Designer with over 30 years experience in urban development delivery. He spent over 24 years with Delfin Lend Lease, working on some of Australia's most renowned urban development projects, including a range of Project Management and leadership roles. In February 2012 he established Branford Planning + Design which provides a broad range of specialist skills including urban design, master planning, project management and feasibility analysis.
Peter Dungey
Member
1 December 2018 – 31 May 2020
Peter is an architect and urban designer. His career has encompassed public and private architectural practice, strategic public realm projects and programs and the formulation of planning and urban design policy.
He is the recipient of numerous professional awards and brings critiquing skills developed over four decades of involvement in design practice, design education, design review and development assessment.
Mark Adcock
Member
1 December 2018 – 31 May 2020
Mark has been a practicing town planner in South Australia and interstate for over 40 years. His experience encompasses a broad range of planning disciplines working in the private sector, Local and State Government.
In Local and State Government Mark has held a number of senior management positions responsible for the delivery of high quality planning services and outcomes. In private practice Mark has provided high level professional services to clients throughout Australia and has managed a range of complex multi-disciplinary projects, environmental and social impact assessments, and master planning for new and re-developing areas. Mark also has a sound knowledge of the legislative and statutory processes through participation in planning system reviews, the development of the current planning legislation, and experience in Court and appeal proceedings.
A keen contributor to the profession, Mark is a Fellow Member of the Planning Institute of Australia and past Vice-President, served on the Planning Education Foundation, the Local Government Planners Association, the Native Vegetation Council, and has been a guest lecturer at the University of South Australia.
Sally Roberts
Member
1 December 2018 – 31 May 2020
Sally is a town planner who has worked within the South Australian Local Government sector since 1989, which has seen her work within metropolitan and regional settings undertaking development assessment, policy planning and middle and senior management roles. Sally has been on a number of committees taking chair and executive officer roles and has had a Presiding Member role on a Development Assessment Panel. She is also currently a member of the Local Government Advisory Committee.
Sally has a passion for planning at the local level and in particular within the rural / regional sector. Having worked in the greater Adelaide region for the majority of her career it has enabled her to be involved in a diversity of roles and significant projects.